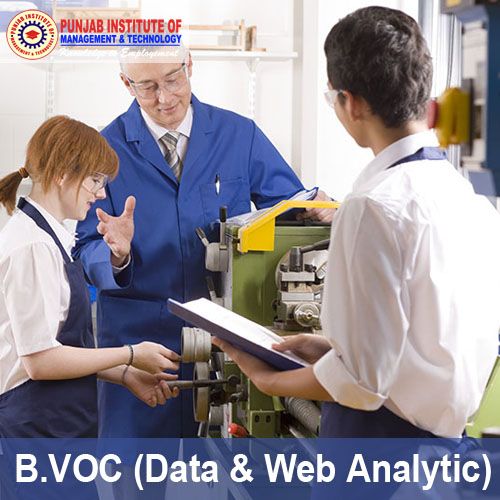 B.Voc COLLEGES IN PUNJAB (DATA & WEB ANALYTICS)
Are you looking for the Top B.Voc Colleges in Punjab?
Do you want to learn Best Vocational Courses in Punjab?
Are you in search of Best B.Voc Colleges near me?
If yes, then your search ends here.
Punjab Institute of Management & Technology (PIMT) understands the student's needs by providing the best vocational courses in Punjab India in Data & Web Analytics. PIMT is recognized as one of the best b.voc colleges in Punjab India for providing full job placement assistance to its students upon graduation.
B.Voc degree courses in Punjab at PIMT contains the discovery, interpretation, and communication of meaningful patterns or summery in business data. During B.Voc in Data & Web Analytics, students will learn software application and business oriented software which are being used in IT industry and in E-business such as CRM, ERP, Hadoop, SPSS etc.
VOCATIONAL COLLEGES NEAR ME:
Innovation is the popular word today. While some youngsters are more focused towards studies and choose for higher education in Technology and Management etc., others are more interested in vocational courses near me.
Considering the prevailing scenario, Punjab Institute of Management & Technology (PIMT) is now offering Bachelor of Vocational Courses in Data & Web Analytics as well. Armed with a proper degree, students would feel confident to pursue what they really love in b.voc colleges near me.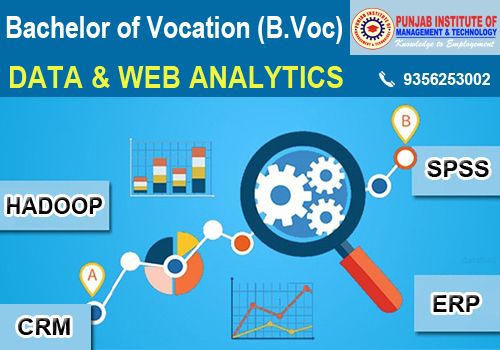 COURSE DETAILS – B.Voc Colleges in Punjab
Duration: On very new and fresh grounds, PIMT had launched a Three year (6 semesters) course
Type: Diploma and Degree Programme
ELIGIBILITY – B.Voc in Data & Web Analytics
A candidate must have passed 10th with one subject Mathematics statics
Why PIMT for Vocational Courses in Punjab?
Bachelor of Vocational Course from 1st AICTE approved Institute

Listed Under UGC 2[f]

Affiliated to IKG-PTU since 1997

20 Years of Educational Supremacy

Rated A4 by AIMA & A+++ by Just Careers

Well Settled Students with Excellent Packages Abroad

Highest level of infrastructure in Punjab region

Industry Expert Lecturers: We have senior industrial working lecturers equipped with in-depth knowledge of B.Voc degree courses
100% Placement Support: We have an expert team to line up your placement drives until you get the job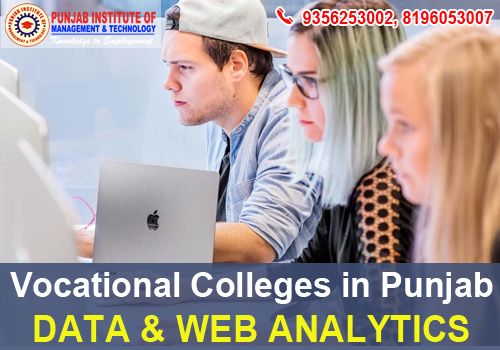 JOB OPPORTUNITIES:
Through B.Voc degree courses in India, you have multiple career opportunities and a higher pay scale. Upon joining the bachelor of vocational courses at the best B.Voc Colleges in India, you can open your doors to lucrative job opportunities.
Below given are some of the job profiles to consider:
Software developer

Web developer

Associate analyst

Business Solution Provider

Business Consultant

Software application Architecture