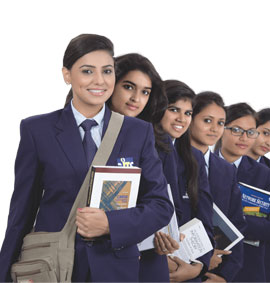 BBA (Bachelor of Business Administration)

| Sr. No. | Course Name | Duration |
| --- | --- | --- |
| 1. | Bachelor in Business Administration (BBA) | 3 Years |
Best BBA Colleges in Punjab-Top BBA Colleges in Punjab| Punjab Institute of Management & Technology (PIMT)
Bachelor of Business Administration (BBA) is a 3 years graduation degree course in Management offered by PIMT, which is one of the Best BBA colleges in Punjab. BBA in India has become one of the most preferred choices of pursuing graduation after completing class 12 as BBA done from one of the best BBA colleges in Punjab India offers good career opportunity in Management.
Punjab Institute of Management & Technology (PIMT) is one of the top BBA Colleges in Punjab India where we aim is to provide high-value business management education to produce educated and skilled Management Graduates.
PIMT is the best BBA College in Punjab not because we focus on the highest standards of academics but also train students with the best skill sets and making them shines in the corporate world.
PIMT- Best BBA Colleges in Punjab India
At PIMT, education is not limited to academic accomplishments alone but extends much beyond the mainstream classroom education. 
Teamwork, problem-solving, creativity, leadership skills, analytical thinking, decision making, and goal achievements are areas that are effectively addressed to build a thriving business management career.

We boast of having the unique training methodology where the whole curriculum is solely designed only based on requirements of Industry. 

This helps in bridging the gap between Companies' requirements & Management Graduates' business knowledge.
To make the whole BBA Course training process Industry friendly and learning process more practical in approach, the redesigning of curriculum happens every six months which keeps our training methods updated with latest Industry requirements. 
This process ensures that each concept during the training process is linked to jobs.
Every student of PIMT stands out in the crowd as they are not only equipped with Business Concepts but also the right attitude, competencies, aptitude, communication skills, and personality.
PIMT- Top BBA Colleges in Punjab India 
PIMT is one of the top BBA Colleges in Punjab India and has grown into one of the most preferred destinations for students seeking advanced Management Education. The advanced training techniques developed at PIMT have allowed students to become industry-ready BBA professionals with a confident, sharp and intelligent personality.
PIMT gives you the perfect opportunity to learn the business from experienced faculty and corporate leaders.
Your education will go beyond the classroom where you will have the opportunity to work with them along with research and projects while building business knowledge and experience.
Our Mission
We aim to become the best institute in the field of management education with equal emphasis on personal and academic development.

Our goal is to create role models that can play a pivotal role in shaping our society as they climb the corporate ladder.

Our mission is to develop action-oriented leaders of persistence and extraordinary stamina to make things happen as they should.
Our Vision
We want to achieve global identity through our innovative and unconventional methods and our efforts to improve society through the production of skilled graduates with values, dynamics, and entrepreneurial skills.

Our vision is to become the brand of professional excellence by adopting a holistic approach to learning.
PIMT- Eligibility for BBA Course
A candidate must have passed 10+2 or three-year diploma from a recognized board with min. 55% marks.
BBA Course Objective:
  Critical assessment of a range of relevant theoretical business management concepts.

To critically appreciate the importance of recent theoretical developments in business and their strategic implications.

Theoretical and practical knowledge in business and interdisciplinary areas of management.

Learn and apply the basics of critical business processes such as strategic management, finance, marketing, information technology, product design, business ethics, human resources, and processes in this context.
Why Choose PIMT-Best BBA Colleges in Punjab?
Regular personality development classes conducted by experts for students.

Excellent placement record year after year.

Strong dedicated team of experienced faculty.

Seminars and presentations are a regular part of academic activity.

Inspiring campus environment that fosters research and learning.

Sports, discussion and cultural activities every week.

Anti-ragging cell-active all year round.
ELIGIBILITY CRITERIA:
A candidate must have passed 10+2 or three year diploma from recognized board.
CAREER PROSPECTS:
A BBA gets you entry level positions in many corporations and factories. You would do lot of back end work and provide support services to your seniors. You will need to hit the glass roof very fast and the MBA will need to be taken to the stairs.
Top Search
Best BBA colleges in Punjab , BBA course ,BBA colleges in Punjab ,India top ranked college in Punjab for BBA ,Top BBA colleges in Punjab 2018 ,BBA fees in PIMT ,Top BBA colleges in punjab ,Best BBA college in India