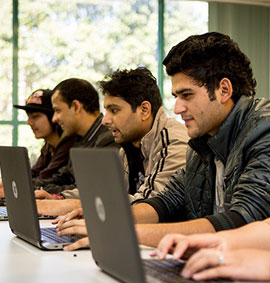 MCA (LEET)
| Sr. No. | Course Name | Duration |
| --- | --- | --- |
| 1. | Master in Computer Application (MCA-LEET) | 2 Years |
INTRODUCTION:
Computer science and engineering and Engineering Department from is putting forth a 2-Year MCA (Lateral Entry) program likewise, alongside existing MCA (3-Years) course. The course is only Intended to meet the IT prerequisites for different associations. The center goal of this program is to set up the
understudies for gainful profession in programming industry .furthermore, the scholarly community by giving an exceptional situation of educating and research .In the center and developing zones of the control. The program outfits understudies with the aptitude and important capability to deal with every single commonsense issue looked by industry.
The lateral entry MCA Course from PIMT is a 2-Year length program that is intended to give a chance to the understudies who hold Bachelor Degree in Computer Application (BCA), Bachelor of Science (B.Sc.) – Computer Science/IT to attempt Ace of Computer Application (MCA) Course. The 2-Year MCA
program gives information up gradation and ability improvement for understudies with BCA, BSc (Software engineering/Information Technology) capability who could effectively expand their significant commitment in streamlining the basic leadership process and development in the territories of Computer Applications in not so distant future.
ELIGIBILITY:
Degree in Engineering / Technology / Commerce / Banking / Business Administration / Computer Application / Science with Mathematics as one of the subjects. Any degree with a Post-Graduate Diploma in Computer Science / Computer Application of minimum one year duration of recognized University. Any degree with Mathematics at plus 2 level (Allied subjects like Basic Mathematics, Applied Mathematics and Business Mathematics are not treated as equivalent to +2 Mathematics).
COMPANY HIRING MCA:
MCA Post graduates are hired both by government agencies like NTPC,BHEL etc and private IT companies like Accenture,Infosys,Wipro,TCS,Cognizant,IBM,American express,HCL,HP and so on. As a fresher, an MCA professional can expect anything around 2.4 to 3.4 lakhs and with experience, after few years software engineer can become Lead,an Analyst, a project manager,a general manger and so on. MCA post graduates are hired both by Government agencies NTPC, GAIL, BHEL, etc and private IT companies like Accenture, Infosys, Wipro, TCS, Cognizant, IBM, American Express, HCL, HP and so on.
CAREER OPTIONS AFTER MCA:
After getting an MCA degree, one can enter any of the following roles:
Software Developer/Programmer/Engineer
Troubleshooter
System analyst
Software application architects
Hardware engineer
Technical writer.
Systems developer
Web designer and developer.
ELIGIBILITY CRITERIA:
A candidate must have passed Bachelor's degree in any discipline with mathematics/quantitative techniques/statistics at 10.2 level or graduation or BCA. Few seats are also available under management quota.
CAREER PROSPECTS:
[White Collared Jobs] – For a student who has chosen computer applications they. can be placed as a trainee programmer software analyst. system administrator and highly paid jobs in government sectors. Software developer, web designer, system management etc. are few of the key areas that an MCA graduate is hired for job.
Top Search
Top MCA college in Punjab ,MCA college in Punjab with fees structure ,MCA college in Punjab ,MCA Lateral entry colleges in Punjab ,Top MCA colleges in India ,Top 10 college providing MCA in Punjab ,Job oriented MCA Training ,Best MCA college in Punjab