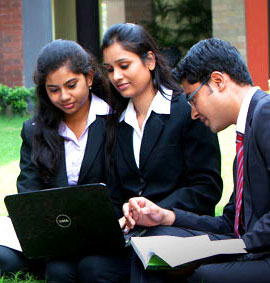 B.Com (P) (Bachelor of Commerce – Honours)

| Sr. No. | Course Name | Duration |
| --- | --- | --- |
| 1. | Bachelor in Commerce- Honours (B.Com(H)) | 3 Years |
INTRODUCTION :-
The Bachelor of Commerce degree is designed to provide students with a wide range of managerial skills, while building competence in a particular area of business. PIMT offers program in Professional areas to develop the knowledge and expertise you need for a rewarding career in accounting.
The PIMT offers Bachelor of commerce (Hons) which is further advanced study in Commerce. The degree often serves as an abridgement between the undergraduate program and postgraduate programs. Real world experiences are at heart of the Bachelor of Commerce. This degree develops your analytical, communication and problem solving skills, providing you with a global perspective on business and preparing you to pursue a career within business, government or not-for-profit sectors.
WHY BACHELOR OF COMMERCE :
The Bachelor of Commerce equips students with the theory, practical experience and employability skills, including leadership,teamwork,critical thinking, communication and problem solving, required to succeed in a wide range of business careers. In this course, students will complete one year of supported professional practice in a work setting.In this course , students will complete one year of professional practice in a work setting to develop a range of non technical skills and attributes, as well as enhance student understanding of professional conduct, the realities of working and the different career options available to them in their chosen field.
As a Commerce graduate, you will have the knowledge and skills to tackle some of the greatest challenges facing the world. You could find yourself working at a global advertising agency, starting your own social enterprise or entering the world of corporate finance, among many other career destinations.
On a serious note,today, just completing your graduation is not counted as having a great career.You should have great knowledge and a good degree to face strong competition in life.But the most important question is which is the right course after B.com for you ?Since you have completed your graduation in Commerce, we are assuming that your are interested in the field of Accounting and therefore shall guide you to choose a career in the field of Accounting and therefore shall guide you to choose a career in the field of Acconting.There are many career options present for you after completing Bachelor of Commerce.
Here are a few career options you can pursue after completing your graduation in commerce.
1. Chartered Accountant (CA) or Company Secretary (CS):
Most students take up commerce just to become a CA or CS. It is one of the best career options for all commerce students. There is a high demand for CAs and it opens up more opportunities, especially in business.
Chartered accountants can make a career in Banking (Private & Government), Public Limited Companies, Auditing Firms, Finance Companies, Legal Firms, Mutual Funds, broking Firms, Patent Firms, Investment Houses, Copyright Registers etc.
2. Lecturer/Professor:
After completing your graduation, you can pursue a Master's degree and then apply for the National Eligibility Test. The NET is conducted to determine the eligibility for Junior Research Fellowship Award or Assistant Professor.
A lecturer's job provides a stable salary and gives you a chance to constantly increase your knowledge.
3. Banker:
To become a banker, you need to complete an internship and an investment banking program to get a license. An MBA degree improves your career options.
Bankers give their customers a wealth of services. They assist in initial banking requests such as setting up certificates of deposit and opening a checking or savings account as well as handling trusts, investment accounts, deposits, lines of credit and much more.
A banker should have good communication skills, love to help people, good in sales marketing knowledge, multi-tasking proficiency.
4. Government Jobs:
Government jobs are the best in terms of job security. Most government jobs have fixed working hours, good pay structure, less work stress.
With this, you can enjoy perks and benefits like medical, housing, loans, childcare, lots of holidays etc.
After completing your B.com, you can apply for most of the competitive government job exams because the minimum eligibility criterion is graduation. You can apply for Civil Services Exams (IAS, IES, IPS), SSC CGL, Railway RRB Exams, Banking exams (IBPS PO, IBPS Clerk, SBI PO, RBI etc.)
5. Human Resource Development Management:
Students of B. Com. can also pursue a Masters in Human Resource Management. HR officials assess policies relating to personnel management and describe the effects of these policies on roles and operations within the company.
There are different career opportunities available for HR like: Administrative Services Manager, Labour Relations Specialist, Human Resources Specialists, Training and Development Managers etc.
6. Legal Adviser/Attorney:
No doubt, a law degree has a good career scope. But you have to gain experience first to understand the profession and skills required to become a lawyer
You need to get a Bachelors Law Degree or LLB recognized by Bar Council of India to practice law in India.
To pursue a 3-year LLB course, the minimum eligibility is s Bachelor's degree with at least 50% marks. There is no age limit.
7. Chief Accountant/Chief Internal Auditor:
Again, one more good career choice for commerce graduates is Institute of Cost & Works Accountants of India (ICWAI).
After completing your ICWAI course, you can pursue M.Phil. or PhD or join as a Financial Controller, Cost Controller, Chief Internal Auditor and Chief Accountant etc.
There are different levels of Cost Accountancy: Foundation, intermediate and final examinations and three years of practical training.
Cost accountants are involved in the costing part of financial transactions. CWAs earn lesser, starting off at an average of Rs.3 lakh p.a and getting a pay package of around 8 – 10 lakhs after 5-6 years of work experience.
8. Certified Management Accountant (CMA):
The CMA is offered by the Institute of Management Accountants (IMA) USA and the content is regularly reviewed by the Institute of Certified Management Accountants (ICMA).
The required skills for CMA are financial planning, analysis, control, decision support, and professional ethics.
The certification is the most popular management accounting certification not only in the US but also in the fastest developing regions like China and the Middle East.
9. Market Researcher:
The work of a market researcher is to study the market trend, market competitors before launching any new product.
There are different works of a market researcher, like: meeting and liaising with clients to negotiate and agree on research projects.
Analyzing and interpreting data to identify patterns and solutions, including surveys and focus group transcript.
Further, they can become research executive, senior researcher, account director etc.
ELIGIBILITY CRITERIA:
The candidate passed +2 or equivalent with at least 33% marks in case of commerce students and 40% for the students who opted for two of the following subjects in +2 Accounts/Business Studies/Economics/ Maths/Office Management and Secretarial Practice/ Principle and Practice of Insurance/ Tax Procedure and Practice and 45%f or other candidates.
CAREER PROSPECTS:
Financial Analyst. Project Manager,Accountant. Bank Jobs. Govt. Jobs.
Top Search
Best Commerce Colleges in Punjab, Top Commerce Colleges in India, Top Commerce colleges in Punjab, Top 10 B.com Colleges in Punjab, Top College in Punjab for B.com, B.com from PIMT college, B.com subjects PIMT college, Top 50 colleges for B com in India, Top colleges in Punjab for commerce,