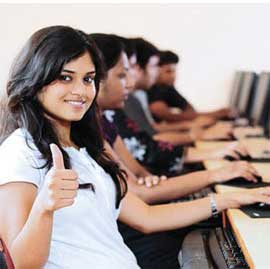 BCA (Bachelor of Computer Application)

WHAT IS BCA
Bachelor of Computer Application course is a popular undergraduate program for candidates wishing to make a career in the field of information systems and computer applications. PIMT is one of the top BCA Colleges in Punjab, aims to prepare students to be Computer Professionals, Researchers, and Entrepreneur.
It is a course for students who want to shine in the field of computers and information technology. The objectives of this program are to provide a sound academic base through which to develop an advanced career in computer application and postgraduate studies. Conceptual bases will be provided in the use of the computer as well as the application of its practical work.
The department is well equipped with all facilities such as student labs, assistance programs, etc. BCA is dedicated to training in good learning and improving skills. The core subjects of this program have been designed by PIMT, top BCA College in Punjab to introduce students to the various areas of computer science such as computer programming, software engineering, computer networking, database management, and computer graphics, etc.
After completion of the BCA course, students can opt of MCA or they can even try for job opportunities. Fast-growing information technology and communication systems have become key components of each company's strategic plan. Companies that want to take advantage of new information technology and communications systems need professional experts who can apply the principles of computer science to solve problems arising from the interaction between business and technology.
PIMT- top BCA colleges in Punjab India
We're a reputed BCA college in Punjab India offering quality tech education to students from all over the world. Our BCA or Bachelor of Computer Application is a three-year (six semesters) degree program aimed at developing skilled and knowledgeable IT professionals for the technology and software industry across the world.
Being a top BCA college in Punjab, our focus is to deliver a stimulating learning environment to students. Our fully-equipped computer lab is open 24 x 7 so that learning is never restricted.
We combine classroom learning with live project work so that our ambitious technology community can acquire the required level of skills to prepare for the software industry anywhere in the world.
So, join PIMT, BCA Institute in Punjab India, to leverage our facilities, study in a rewarding atmosphere and realize your IT goals in a timely and desired manner.
OBJECTIVES:
To develop IT professionals with innovative programming skills as required in the software industry.
To prepare and support the students for higher studies and the development of their career path.
To enhance, prepare and train students to face the challenges of the corporate and IT world.
To inculcate moral and professional values among students.
ELIGIBILITY CRITERIA:
A candidate must have passed 10+2 or three-year diploma from a recognized board. Selection based on merit
Direct admissions are done against vacant seats as per norms of PIMT, Punjab
PIMT- Career Opportunities after BCA Course in Punjab
Computer Programmer
Computer Scientist
Computer Support Service Specialist
Computer Systems Analyst
Database Administrator
Information Systems Manager
Software Developer
Systems Administrator
Start-up – your own business
Higher Studies: MCA, MBA, M.Sc.(CS/IT), PGDCA
ELIGIBILITY CRITERIA:
A candidate must have passed 10+2 or three year diploma from recognized board. Selection based on merit.
CAREER PROSPECTS:
Web Designer. Bank jobs. Govt. School Teacher. Technical. Call Centers, Software developer