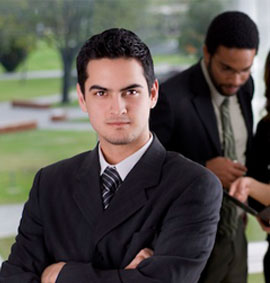 MBA (Masters of Business Administration)

| Sr. No. | Course Name | Duration |
| --- | --- | --- |
| 1. | Master in Business Administration (MBA) | 2 Years |
TOP MBA COLLEGES IN PUNJAB
MBA is a two-year full-time course spread over four semesters. The program is duly approved by AICTE and affiliated to the Punjab Technical University. PIMT is one of the top MBA Colleges in Punjab, provides MBA program to students with quantitative as well as qualitative knowledge to analyze business problems and create opportunities to address them. Our mission is to develop responsible global leaders and develop business knowledge.
The MBA program at PIMT helps the students-
Increase their understanding of real-world business complexities through case studies.

Cultivate analytical and problem-solving skills.

Understand the socio-economic environment and its implications on business.

Improve decision-making capabilities and problem-solving skills.

Develop their communication skills along with leadership qualities.
PIMT, the best MBA College in Punjab India, provide multiple courses in MBA which is exceptionally a good idea as it opens multiple career streams to students and enhances their employability. The main aim of PIMT MBA program is to focus on developing competence in understanding financial services domain.
PIMT- top MBA Colleges in Punjab India
Business is about managing change in technology, markets, corporate cultures, and global environments. PIMT's management candidates face the rigors of business education that focuses on combining classic business skills, such as finance and strategic planning, with creativity and good governance – the impact of the liberal arts perspective. Post Graduates from PIMT, top MBA Colleges in Punjab India, are highly desirable job candidates because they are self-directed, ethical and effective contributors in their communities. The department of Master of Business Administration (MBA) was established in the year 1997.
The MBA program aims to provide students with relevant labor, industry and trade inputs so that they can work efficiently and effectively to meet the emerging challenges as a result of the development of each round in the country. PIMT focuses more on management education than on business management. Leadership commitment is believed with a deep understanding of business. The education approach combines fieldwork, case studies, and feedback with a strong emphasis on concepts and theory.
A variety of teaching and learning techniques are employed to impart knowledge and skills to students at PIMT. Students are encouraged to make presentations on the Academy, Management and other topics of current interest. Students are trained to effectively communicate, resolve disputes, negotiate and face the constructive criticism of their fellow students and faculties in an informal environment.
PIMT- best MBA College in Punjab
MBA is one of the successful postgraduate programs in management. Every graduate student, who wants to get a master degree, is found looking for the top and recognized universities/colleges. If you are one of them looking for the best MBA College in Punjab, you have a better opportunity to make your dream come true at Punjab Institute of Management & Technology established in the year of 1997. PIMT has been commencing Post Graduation Courses like MBA in different streams. We have marked our presence in technical and management education by establishing PIMT- one of the top MBA colleges in Punjab India.
We know well the importance of management education- mainly to become a successful manager, team leader, and businessmen. We have made our significant contribution to the area of management education.
Punjab is a city where you get good jobs and also enjoy your studies. PIMT is the top MBA College in Punjab which provides 100% placement services. Fees are also affordable and provide direct entry to students with good academic records. Stay in touch with the College's Alumni Network for Better Perspectives.
Eligibility Criteria for MBA Program
A candidate must have passed Bachelor's degree of minimum 3 years duration in any discipline from a recognized university. Selection is through CAT/MAT-CMAT followed by an explorative group discussion and personal interview. Few seats are also available under management quota.
Career Opportunities after an MBA in Punjab India
A management consultant's role is to counsel businesses on management systems and find issues in the organization which is holding back the company from attaining their objectives.
Investment bankers help companies invest and develop their investments through the deliberate purchase of debt and equities similarly provide advice and support in financial transformations such as mergers and acquisitions.
Today, the number of investors willing to buy a new business has increased. These investors rely on advice on the types of business to be financed. So the venture capital guides investors to invest accurately.
Description: A general manager is in charge of managing the revenue as well as the cost structures of the loss or profit report.
Information Systems Manager
Description: Being an Information systems manager means you are in charge of the development, coordination, and guiding a range of computer actions in numerous kinds of organizations. The key role is to support and regulate the IT objectives for the business along with assuming the responsibility for every computer systems required to execute company objectives.
Business Operations Manager
Business operations manager utilizes their expertise in operations management and supply chain management to decide the ways in which businesses can resolve their various challenges. This, in turn, will decrease expenditures within the organization.
Market research analysts examine market situations to conclude the sales frequency can be for new products or services. Their main purpose is to help businesses to understand what kinds of products the consumers require. They also offer data on the customers that might purchase the products the estimated pricing.
A financial or business analyst provides guidance to corporations and people who want to take sensible investment decisions. They also have a vital role in evaluating various investments' performances, involving bonds and stocks.
The HR manager is accountable for developing, guiding and coordinating every administrative role of the company. They manage the recruiting, hiring, and interviewing, and work along with senior executives different hiring plans.
The role of a product manager is often like that of the CEO for a particular product, mostly in case of medical products, pharmaceutical or technology.
Top Search
Top MBA college in Punjab ,MBA college in Punjab with fees Structure ,Top MBA colleges in punjab ,Private university MBA colleges in Punjab ,MBA colleges in Punjab with Fees structure ,MBA colleges in Punjab with Fees structure ,Best MBA College in Punjab ,MBA colleges in Punjab