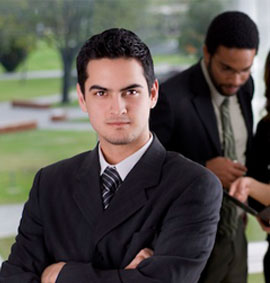 Best MBA colleges in Punjab | PIMT​
| Sr. No. | Course Name | Duration |
| --- | --- | --- |
| 1. | Master in Business Administration (MBA) |   2 years |
Are you looking for the Best MBA colleges in Punjab India?
Are you in search of MBA Courses in Punjab India?
Do you want to take Management courses near me?
If yes, then your search ends here.
Punjab Institute of Management & Technology (PIMT) understands the student's needs by providing the best MBA courses in Punjab India. PIMT is recognized as one of the best MBA colleges in Punjab India for providing full job placement assistance to its students upon graduation.
PIMT, the top MBA courses in Punjab India, provide MBA program to students with quantitative as well as qualitative knowledge to analyze business problems and create opportunities to address them. Our mission is to develop responsible global leaders and develop business knowledge.
PIMT – Best MBA Courses in Punjab India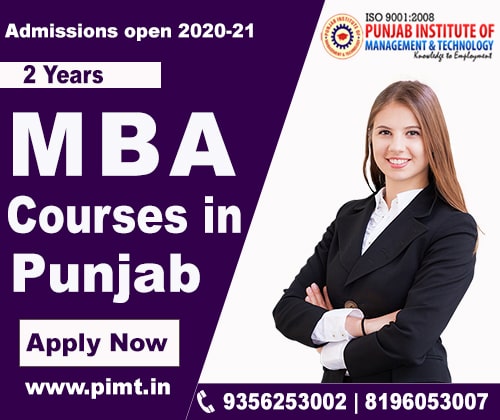 Best MBA courses in Punjab India, PIMT combines both theoretical and practical learning, in order to ensure that both the knowledge and the skills are provided to the students. State of the Art practical training facilities are provided at the best MBA colleges in Punjab India where learners have the advantage of knowing the real, practical practices and procedures implemented in the field of MBA Program.
We are offering you the best opportunity to do MBA from, the best Management courses near me. The PIMT MBA program helps students.
Increase their understanding of business complexities in the real world through case studies.
Cultivating analytical skills, and problem-solving.
Understand the social and economic environment and its effects on business.
Improve decision-making capabilities and problem-solving skills.
Developing their communication skills along with leadership qualities.
Management Courses Near me | PIMT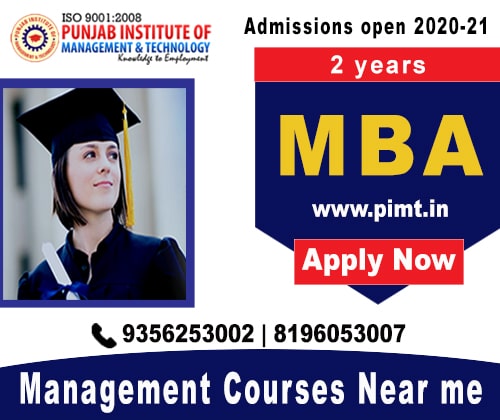 PIMT, the Management Courses near me, with the continuous expansion in Indian economy, the demand for experienced business experts required. MBA classes near me at Punjab Institute of Management & Technology (PIMT) which is the best MBA colleges near me PIMT prepares the future experts to be industry ready by training them in all the skills which they will required in their career.
PIMT, MBA coaching near me is ideal for students who are looking for a career in MBA program and also for the professionals who want to enhance their knowledge and working skills on occupational Management fields.
Eligibility criteria for MBA courses in Punjab India:
To seek admission to MBA Courses in Punjab India, a candidate must have passed with Bachelor degree holder / Graduate in any discipline from any recognized University.
Why Join PIMT for Top MBA Colleges in Punjab India?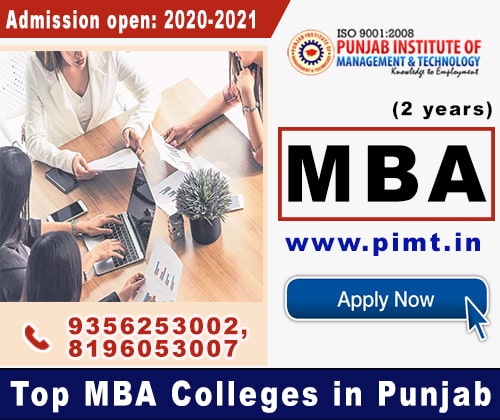 The main aim of PIMT's top MBA colleges in Punjab India is to focus on developing competence in understanding financial services domain. PIMT, top MBA courses near me, provide multiple courses in MBA which is exceptionally a good idea as it opens multiple career streams to students and enhances their employability. 
The MBA courses in Punjab India at PIMT help the students-
MBA Course in Punjab India from 1st AICTE approved Institute
Listed Under UGC 2[f]
Affiliated to IKG-PTU since 1997
20 Years of Educational Supremacy
Rated A4 by AIMA & A+++ by Just Careers
Well Settled Students with Excellent Packages Abroad
Highest level of infrastructure in Punjab region
Industry Expert Lecturers:We have senior industrial working lecturers equipped with in-depth knowledge of MBA Courses
100% Placement Support: We have team of experts to line up your placement drives until you get the job. Finest companies come forward and became recruiters for PIMT
Lowest course fee, best advisory service for students, employers and flexibility in learning methodology.
Increase their understanding of real-world business complexities through case studies.
Cultivate analytical and problem-solving skills.
Understand the socio-economic environment and its implications on business.
Improve decision-making capabilities and problem-solving skills.
Develop their communication skills along with leadership qualities.
JOB OPPORTUNITIES: MBA Courses in Punjab India.
There are multiple career opportunities and a higher pay scale in Management course. Upon joining the MBA Courses in Punjab India at the best MBA colleges in Punjab India, you can open your doors to lucrative job opportunities, not only in Private sector but in Government sector also.
Below given are some of the job designations for MBA Program to consider:
A management consultant's role is to counsel businesses on management systems and find issues in the organization which is holding back the company from attaining their objectives.
Investment bankers help companies invest and develop their investments through the deliberate purchase of debt and equities similarly provide advice and support in financial transformations such as mergers and acquisitions.
Today, the number of investors willing to buy a new business has increased. These investors rely on advice on the types of business to be financed. So the venture capital guides investors to invest accurately.
Description: A general manager is in charge sof managing the revenue as well as the cost structures of the loss or profit report.
Information Systems Manager
Description: Being an Information systems manager means you are in charge of the development, coordination, and guiding a range of computer actions in numerous kinds of organizations. The key role is to support and regulate the IT objectives for the business along with assuming the responsibility for every computer systems required to execute company objectives.
Business Operations Manager
Business operations manager utilizes their expertise in operations management and supply chain management to decide the ways in which businesses can resolve their various challenges. This, in turn, will decrease expenditures within the organization.
Market research analysts examine market situations to conclude the sales frequency can be for new products or services. Their main purpose is to help businesses to understand what kinds of products the consumers require. They also offer data on the customers that might purchase the products the estimated pricing.
A financial or business analyst provides guidance to corporations and people who want to take sensible investment decisions. They also have a vital role in evaluating various investments' performances, involving bonds and stocks.
The HR manager is accountable for developing, guiding and coordinating every administrative role of the company. They manage the recruiting, hiring, and interviewing, and work along with senior executives different hiring plans.
The role of a product manager is often like that of the CEO for a particular product, mostly in case of medical products, pharmaceutical or technology.